Roy "the boy" Herrington
-befindet sich seit seinem 17ten Lebensjahr (Bauj. 60) auf "World - Tour" -rockin´ the blues. Gebürtiger Yorkshireman aus Featherstone mitten im Kohlenpott England´s, also: "they say the blues is Black".
Roy´s Gitarrenstil lässt sich auf die unterschiedlichsten Einflüsse zurückführen, von Pat Martino bis Link Wray, -von Barney Kessel bis Buddy Guy.
Das Hauptprogramm besteht aus eigenen Kompositionen mit Schliff der oben genannten Spezi´s, -schreckt aber nicht vor den "Classics" zurück.
Jahrelang "mad axeman" für Chris Farlowe (CD / LP: Live in Berlin) und "Geheimwaffe" bei Supercharge, Spencer Davis, Gene Conners und
Route66 Allstars.
Freischaffender Journalist und Author des "ReB Compact" (KDM-Verlag)
Endorsements: "Fret King Guitars"

Neues: Jetzt können Sie Roy Herrington auch als Duo buchen.
gemeinsam mit Jens Filser hat er die CD "Two Blue Dudes" aufgenommen.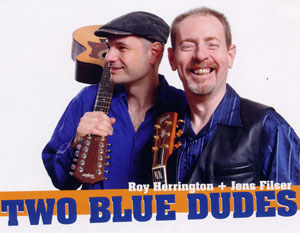 Discographie + Soundsamples:
http://www.royherrington-blues.com/index.php?anzeige=disco-de&COUNTRY=de

aktuelle Tourdates unter
http://www.royherrington-blues.com/index.php?anzeige=tour-de&COUNTRY=de

Sie können Roy Herrington im Duo oder im
Trio ganzjährig über Route 66 buchen.